Woot, woot, it's time for a new challenge over at
Link Up For Pink!
We have two fabulous sponsors for this months challenge:
Lovebug Creations is giving away a $15 voucher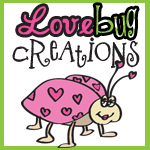 And Sk Digis is giving away four $6 vouchers
Isn't that exciting!!!
For the challenge this month we have a photo for inspiration:
Aren't those colors just gorgeous? The theme: breast cancer awareness,
inspirational, healthy reminders, "celebrate more birthdays", you're in
my thoughts, encouragement, etc.
For my card I used one of SK Digis digital images from the Save The Hooters For Breast Cancer Awareness kit which you can purchase
here.
I also used some of
Lovebug Creations
gorgeous rumple ribbon.
Supplies used: card stock - recycled white; patterned papers - Fairy Dust from Magic Happens by Kaiser Craft, Girlfriend Stripe-Passion Pink and Red Polka Dot both by Daisy D's; digital image - SK Digis; Copic markers; rumple ribbon - Lovebug Creations; ribbon - Blue Jean Boutique Trims by Doodlebug; flowers - Yolie; border punch - Fiskars; sewing machine; Pop Dots
Remember Ladies - Take Care Of Your Girls!!!
Get Your Mammograms!!!