r>
Wow, I can't believe how time has flown by lately!!!!
We are just a little over a week away from the beginning of our linking party over at Link Up For Pink. Excitement is brewing and we have over 75 sponsors with all kinds of amazing prizes!!!!!
I hope you are gearing up to join us and link up your Breast Cancer Awareness projects. You are definitely not going to want to miss this party!!!! Show your support, spread the awareness and get in the running for all the super giveaways!!!!!
Because we are so close to our linking party challenge #6 will run for only one week.
The challenge will be from 9/20 to 9/26 with a winner announced 9/27.
We have two sponsors for this challenge that we'd like to shout out a BIG thank you to: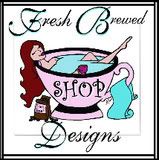 and
The prize will be a stamp from Fresh Brewed Designs and some cotton muslin bags from State Line Bag Co.
The design team had so much fun altering these bags from State Line Bag Co. with Heathers fun stamps!
Here is mine made with Coffee Take Me Away which you can purchase here.
I think it would make the perfect gift bag for a Starbucks gift card or fill it with some beans and add a cute coffee mug for a special gift.
I stamped the image on the bag and colored it with Copic Markers.
A couple hints when doing this: 1. put a piece of paper in the bag so that the ink and markers don't bleed through to the back of the bag, and 2. Don't color all the way to the edge of the image as the ink will bleed a little.
I sewed the ribbon trims to the top and the bottom of the bag. I poked three holes in the bag, on the cup image, to put the heart brads through and cut two small slits on the sides of the towel to tie the ribbon through . I hand sewed the butterfly buttons and the canvas sentiment on. Oh, and I also tied a flower to the drawstrings.
I hope you'll hop over to Link Up For Pink to see what the rest of the design team did, there are some FABULOUS creations to take a peek at!!!!!!
Please come play with us in challenge #6 and join us for our SUPER linking party!!!
Remember ladies - Take Care Of Your Girls!!!